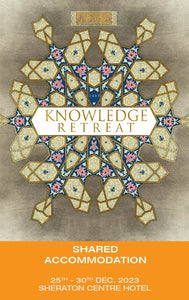 Add this item separately to your shopping cart for each selected date.
Knowledge Retreat 2023 Shared Accommodation ($90/person/night plus tax) at the Sheraton Centre Hotel in Toronto. Price will increase to $99/person/night plus tax after December 03, 2023. Last date for guaranteed room booking is December 3, 2023. Any room booked after December 3, 2023 is subject to availability.
Includes 13% HST + 4% MAT
This option is for a room that will be shared between two randomly selected occupants (unless requested in advance). Each occupant will have their own double bed.