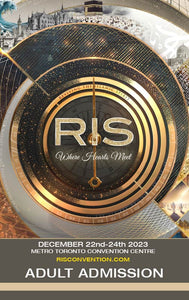 RIS 2023 Convention Adult Admission is $65 plus tax for the 3 Day Convention from December 22 to 24, 2023 at the Metro Toronto Convention Centre. Price of this ticket will increase to $75 plus tax after December 03, 2023.
The group discount offers a $10 discount per ticket when purchasing a minimum of 8 adult convention tickets. This can be shared with family and friends.
Note 1: The group discount requires that all wristbands are collected by the primary applicant on the day of convention. 
Note 2: We will not perform partial refunds on the group discount.
December 10th is the last day to request refund for this item. A refund request can be sent by email to info@risconvention.com
Please be advised that lost, misplaced, "tightened", or broken wrist bands will not be replaced. You will be required to purchase a new wristband. Thank you for your understanding and cooperation.