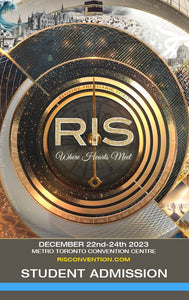 RIS 2023 Convention Student Admission is $55 plus tax for the 3 Day Convention from December 22 to 24, 2023 at the Metro Toronto Convention Centre. This special discounted admission ticket is for an individual attending middle school, high school, college or university with a valid and active student card. Price of this ticket will increase to $60 plus tax after December 03, 2023.
Note 1: The student discount requires that you present a valid student card at the registration counter on the day of convention. 
Note 2: Only 1 ticket can be purchased per student.
December 10th is the last day to request refund for this item. A refund request can be sent by email to info@risconvention.com
Please be advised that lost, misplaced, "tightened", or broken wrist bands will not be replaced. You will be required to purchase a new wristband. Thank you for your understanding and cooperation.